maddiec24
, and I want to show it to everybody - look, now my name can be seen at Marauder's Map!!!
* * *
And
maddiec24
wanted me to answer that meme about things I enjoy, even when no one around me wants to go out and play. What lowers my stress/blood pressure/anxiety level? Back when I had a big fat stomach I'd say eating a lot would be the most relaxing thing to be done, but it wouldn't be the entire truth, there were other things too. Anyway what really works for me is:
1) Reading my LJ flist or my messages from my different e-mails. These things always give me the sense I'm not alone in the world.
2) Reading slash fics. Right now I've been reading tons of Harry/Lucius stories, I'd never imagined I'd love too much reading mpreg fics. Anyway slash stories generally make me forget real life, which is a very healthy thing *g*
3) Eating. Ok, I can't eat like I used to do anymore but it's a comforting habit I still have. Chocolate's still my favourite, but not a box of it, maybe one or two and I'll feel my baby stomach awfully stuffed.
4) Watching TV. I watch almost everything on TV, even the most bizarre shows or movies, they seem to be extremely able to make me relax after a hard day at work. The worst the show/movie is, the calmer I feel. Go figure.
5) Sleeping. It always works, after few sleeping hours I feel much more relaxed. Of course it hadn't happening too much frequently because I've been spending many hours at night here, in front of my computer, and I wonder if somebody at my flist had already have health problems related to sleep deprivation...
Who do I want to do this list?
penalty
,
debaser28
,
aaniren
,
maverick4oz
and
pride_of_erin
* * *
My father's party wasn't so bad at all, our relatives came and we had a nice afternoon chatting a lot. As always my mother tried to overfeed everybody, it's a kind of insult in this family if you don't eat enough to satisfy the owners of the house. Thank God I can't be overfed anymore, but I've to confess I ate a lot more than I should, it's a miracle I hadn't felt sick after that. Anyway people brought nice gifts to my father (some real nice shirts, books, perfume, soaps, etc.), the passion fruit pie was delicious and my cousin's little son was hilarious – he fell madly in love with our bathroom because of our toilet bowl, the 4-year kid had to show it to everybody again and again. I never saw a little boy spend so much time in a bathroom before, only when they're old enough to read skin mags there, lol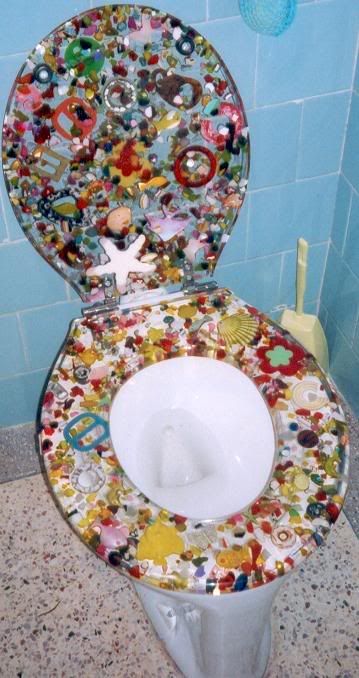 ... and it's a good thing because I've a new default icon, made by
Current Mood:

giggly