2004 was a weird year. As I said before my memory isn't what it was anymore, so I tend to forget many things - people keep telling me things I'd said and done I can't remember I've said or done. Whatever, it's not so important at all. But I do remember there were health issues everywhere this year (my myomas, my father's kidney stones, my grandmother's cataract surgery, people of my flist having to face very serious diseases), and it's sad I can't forget them. I remember my librarian friend quit her job this year, it was unexpected and made me really sad. And, of course, the Asian tragedy will always be reminded. It's so surreal, in a moment people were there, safe, and then in about one hour (probably less than that) about 150,000 men, women and children simply died. It's unbelievable, it sounds a lot like one of those end-of-the-world movies, and I wonder it could have been even worse if it had happened at night, when people would have much more difficulty to see the waves were coming.
2004 was also the year
Jorginho Guinle died
. It doesn't matter to most part of people but for me it's the end of an era - he belonged to a very wealthy family, that old money type, do you know what I mean? During his lifetime he barely worked, but his charming skills were well-known everywhere, I think it's safe to say he was like Keller without the killer side, *g* He had a very interesting life; traveled a lot; Onassis, Nelson Rockfeller and Howard Hughes were among his friends; he had love affairs with famous actresses like Rita Heyworth and Marilyn Monroe... Unfortunately spending all family's money wasn't his smartest move. Once he said that
"The secret of living well is to die without a cent in your pocket. But I miscalculated, and the money ran out too early."
He was a gentleman, a very intelligent and funny man according to everybody, and Brazilian high society will never be the same without him (and without Ibrahim Sued, but that's another story).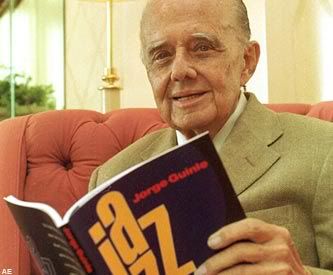 Jorginho (Little George) Guinle - a symbol of an era
However there were very pleasant moments at 2004, and being safe, with my family, knowing my friends are safe and with their families is something that makes me happy. I hope all of us will be happier at 2005 than we were this year, trying to make this planet a little better too just because we're living on it. Now I'll look for more Coke to drink, my Oz S3 tapes (I'll be watching
Out o' Time
again as soon as my family decides to go sleep!) and wait for new year's arrival. Happy 2005 for all!!!!
Happy New Year - B/K style!
Current Mood:

cheerful